Stem Cell Laboratory
BioCruces Research Institute / Hospital Universitario Cruces
Plaza de Cruces s/n. 48903 Barakaldo (Bizkaia)
Phone: +34 946006376 (ext. 2434)
Team
Clara I. Rodríguez,
PhD (Group Leader)
Arantza Infante Martinez, PhD (Postdoctoral Investigator)
Garbiñe Ruiz de Eguino Gabiña (PhD Student)
Andrea Gago Martinez, MD (PhD Student)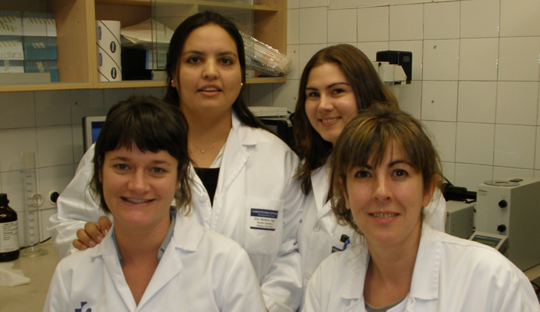 Activities
Basic Research: Laminopathies, LMNA-linked lipodystrophies, generation of human diseases models, human mesenchymal stem cells, Induced pluripotent stem cells (iPSCs), Aging
Equipment and facilities
All the information regarding the Center is available at: http://www.biocruces.com
Publications
Infante A, Ruiz de Eguino, Gago A and Rodríguez C.I. Adipogenesis: Signaling Pathways, Molecular Regulation and Impact on Human Disease. LMNA-linked lipodystrophies: experimental models to unravel the molecular mechanisms. Review by invitation. Nova Science Publishers. In Press.

Ruiz de Eguino G, Infante A., Schlangen K, Aransay A, Fullaondo A, Soriano M, García-Verdugo JM, Martín AG and Rodríguez C.I. Sp1 transcription factor interaction with accumulated prelamin A impairs adipose lineage differentiation in human mesenchymal stem cells: essential role of Sp1 in the integrity of lipid vesicles. Stem Cells Translational Medicine. 1 (4):309-321. 2012.




Trinidad J., Arruebarrena G., Sáenz de Argandoña E., Ruiz de Eguino G., Infante A., Rodríguez C.I. Evaluation of magnesium alloys with alternative surface finishing for the proliferation and chondro-differentiation of human mesenchymal stem cells. Journal of Physics- Conference Series. 252 012010. 2010.

Rodríguez C.I., Stewart C.L.; Cell Therapy. Chapter 30: Therapeutic Strategies Using Genetically Modified cells. Lilly Foundation. Editorial McGraw-Hill. 2008.

Rodríguez C.I., Stewart C.L; Disruption of the ubiquitin ligase HERC4 causes defects in spermatozoon maturation and impaired fertility. Developmental Biology. Dec 15; 312 (2): 501-8, 2007.

Rodríguez C.I., Simón C.; Human Embryonic Stem Cell Derivation: From the IVF perspective to therapeutic applications. Regenerative Med. 1(1); 103-109, 2006.

Rodríguez C.I., Galan A., Valbuena D., Simon C.; Derivation of clinical-grade human embryonic stem cells. Reprod Biomed Online. Jan; 12(1): 112-118, 2006.

Makishima T, Rodríguez C.I., Robertson N.G., Morton C.M., Stewart C.L., Griffith A.J; Targeted disruption of mouse Coch provides functional evidence that DFNA9 hearing loss is not a COCH haploinsufficiency disorder. Human Genetics. 118(1): 29-34, 2005.

Rodríguez C.I., Cheng JrG, Liu L., Stewart C. L.; Cochlin, a secreted VWA domain containing factor, is regulated by LIF in the uterus at the time of embryo implantation. Endocrinology. Mar; 145(3):1410-8, 2004.

Rodríguez C.I., Girones N., Fresno M.; Cha, a basic helix-loop-helix transcription factor involved in the regulation of upstream stimulatory factor activity. J. Biol Chem., Oct 31; 278(44):43135-45, 2003.