Prof. Michael Stumvoll

IFB Lipodystrophy Centre
University Hospital Leipzig
Clinic for Endocrinology and Nephrology
Liebigstrasse 18, 04103 Leipzig
Phone: + (49) 341 97 13380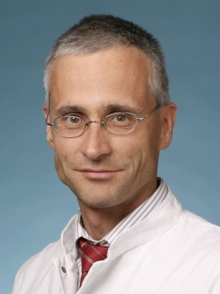 Equipment and facilities of the group and centre
The Leipzig IFB Lipodystrophy Centre is part of the Integrated Research and Treatment Centre AdiposityDiseases that combines basic and patient-focused research and treatment of obesity and its accompanying complications including type 2 diabetes, atherosclerosis, adipose tissue disorders, high blood pressure, and liver steatosis. Moreover, the Leipzig IFB Lipodystrophy Centre is in close collaboration with the Max-Planck-Institute of Human Cognitive and Brain Sciences Leipzig.
Our laboratories are provided with all the necessary equipment to perform in vitro and in vivo experiments including animal research and clinical studies.
Topics of interest
Treatment of lipodystrophy patients with Metreleptin
Influence of metreleptin on brain morphology and behavioral parameters
Influence of leptin on insulin resistance, dyslipidemia, and artherogenesis in lipodystrophy patients
Regulation of leptin and soluble leptin receptor in vivo and in vitro
Publications
Mueller K, Anwander A, Möller HE, Horstmann A, Lepsien J, Busse F, Mohammadi S, Schroeter ML, Stumvoll M, Villringer A, Pleger B. Sex-dependent influences of obesity on cerebral white matter investigated by diffusion-tensor imaging. PLoS One. 2011 Apr 11;6(4):e18544.

Miehle K, Stumvoll M, Fasshauer M. [Lipodystrophy. Mechanisms, clinical presentation, therapy]. Internist (Berl). 2011 Apr;52(4):362, 364-6, 368-70.

Schloegl H, Percik R, Horstmann A, Villringer A, Stumvoll M. Peptide hormones regulating appetite--focus on neuroimaging studies in humans. Diabetes Metab Res Rev. 2011 Feb;27(2):104-12.

Kralisch S, Sommer G, Stangl V, Köhler U, Kratzsch J, Stepan H, Faber R, Schubert A, Lössner U, Vietzke A, Bluher M, Stumvoll M, Fasshauer M. Secretory products from human adipocytes impair endothelial function via nuclear factor kappaB. Atherosclerosis. 2008 Feb;196(2):523-31.

Kratzsch J, Knerr I, Galler A, Kapellen T, Raile K, Körner A, Thiery J, Dötsch J, Kiess W. Metabolic decompensation in children with type 1 diabetes mellitus associated with increased serum levels of the soluble leptin receptor. Eur J Endocrinol. 2006 Oct;155(4):609-14.

Kratzsch J, Deimel A, Galler A, Kapellen T, Klinghammer A, Kiess W. Increased serum soluble leptin receptor levels in children and adolescents with type 1 diabetes mellitus. Eur J Endocrinol. 2004 Oct;151(4):475-81.

Staiger H, Tschritter O, Machann J, Thamer C, Fritsche A, Maerker E, Schick F, Häring HU, Stumvoll M. Relationship of serum adiponectin and leptin concentrations with body fat distribution in humans. Obes Res. 2003 Mar;11(3):368-72.

Kratzsch J, Lammert A, Bottner A, Seidel B, Mueller G, Thiery J, Hebebrand J, Kiess W. Circulating soluble leptin receptor and free leptin index during childhood, puberty, and adolescence. J Clin Endocrinol Metab. 2002 Oct;87(10):4587-94.

Kratzsch J, Berthold A, Lammert A, Reuter W, Keller E, Kiess W. A rapid, quantitative immunofunctional assay for measuring human leptin. Horm Res. 2002;57(3-4):127-32.

Stefan N, Fritsche A, Häring H, Stumvoll M. Acute stimulation of leptin concentrations in humans during hyperglycemic hyperinsulinemia. Influence of free fatty acids and fasting. Int J Obes Relat Metab Disord. 2001 Jan;25(1):138-42.