Department of Medical Sciences
Faculty of Medicine
Paseo de Moledores s/n. Ciudad Real
Phone: +34627952109
Team
Prof. Juan Ramón Peinado
Prof. Mario Duran-Prado
Prof. Francisco J. Alcaín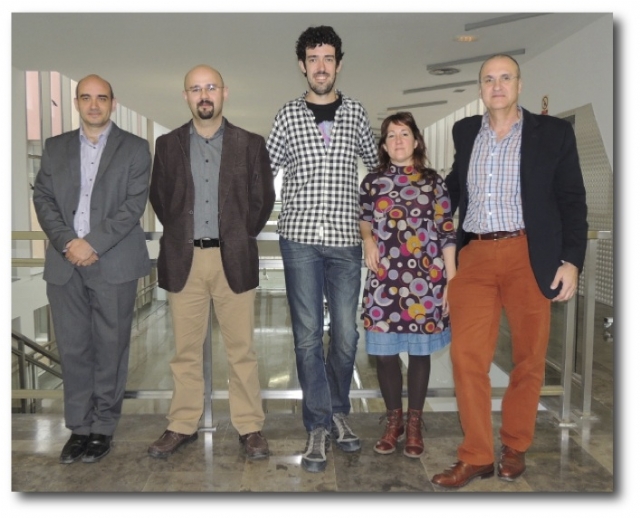 Research lines

Oxidative stress. We have investigated the effect of the supplementation of diets with antioxidants. We have observed that supplementation with CoQ conferred antioxidant protection to the animals reducing also the expression of several antioxidant enzymes which confers to the animals a better redox balance in several tissues. These studies are carried out in animal models of neurodegenerative diseases.
Proteomics. We optimized various proteomic approaches for the study of adipose tissue and brain. The optimization of these techniques allow us to address several studies focused on identifying protein biomarkers associated pathologies originated in both tissues and especially the nervous tissue in neurodegenerative diseases.
Publications

Peinado JR, Ruiz AD, Frühbeck G, Malagon MM. Mitochondria in metabolic disease. Getting clues from proteomic studies. Proteomics. accepted.

Malagón MM, Díaz-Ruiz A, Guzmán-Ruiz R, Jiménez-Gómez Y, Moreno NR, García-Navarro S, Vázquez-Martínez R, Peinado JR. Adipobiology for Novel Therapeutic Approaches in Metabolic Syndrome. Curr Vasc Pharmacol. 2013.

Almabouada F, Diaz-Ruiz A, Rabanal-Ruiz Y, Peinado JR, Vazquez-Martinez R, Malagon MM. Adiponectin receptors form homomers and heteromers exhibiting distinct ligand binding and intracellular signaling properties. J Biol Chem. 2013 Feb 1;288(5):3112-25.

Quirós PM, Ramsay AJ, Sala D, Fernández-Vizarra E, Rodríguez F, Peinado JR,Fernández-García MS, Vega JA, Enríquez JA, Zorzano A, López-Otín C. Loss of mitochondrial protease OMA1 alters processing of the GTPase OPA1 and causes obesity and defective thermogenesis in mice. EMBO J. 2012 May 2;31(9):2117-33.

Peinado JR, Pardo M, de la Rosa O, Malagón MM. Proteomic characterization of adipose tissue constituents, a necessary step for understanding adipose tissue complexity. Proteomics. 2012 Feb;12(4-5):607-20.

Peinado JR, Quirós PM, Pulido MR, Mariño G, Martínez-Chantar ML, Vázquez-Martínez R, Freije JM, López-Otín C, Malagón MM. Proteomic profiling of adipose tissue from Zmpste24-/- mice, a model of lipodystrophy and premature aging, reveals major changes in mitochondrial function and vimentin processing. Mol Cell Proteomics. 2011 Nov;10(11):M111.008094.

Roca-Rivada A, Alonso J, Al-Massadi O, Castelao C, Peinado JR, Seoane LM, Casanueva FF, Pardo M. Secretome analysis of rat adipose tissues shows location-specific roles for each depot type. J Proteomics. 2011 Jun 10;74(7):1068-79.

Peinado JR, Jimenez-Gomez Y, Pulido MR, Ortega-Bellido M, Diaz-Lopez C, Padillo FJ, Lopez-Miranda J, Vazquez-Martínez R, Malagón MM. The stromal-vascular fraction of adipose tissue contributes to major differences between subcutaneous and visceral fat depots. Proteomics. 2010 Sep;10(18):3356-66.