Prof. Nicolas Levy, MD PhD / Dr Annachiara De Sandre-Giovannoli, MD, PhD
Premature aging syndromes and lipodystrophies
Department of Medical Genetics, Children's Hospital La Timone, 264 rue St Pierre, 13005 Marseille
Phone: +33 491 38 77 87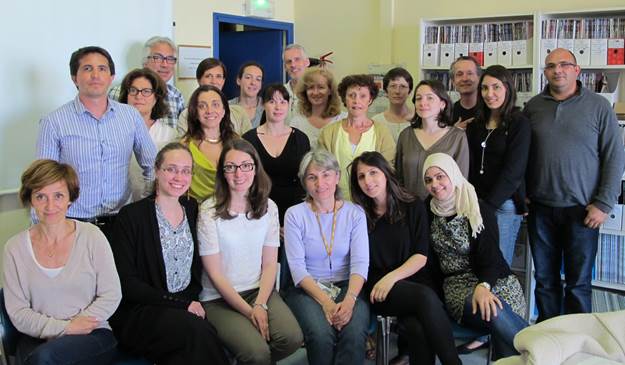 Aims of the team "nuclear envelope and disease"
The physiological relevance of lamins A/C and related nuclear proteins is reflected by the growing number of human diseases linked to genes encoding lamins or their partners. Laminopathies are clinically heterogeneous disorders covering a large phenotypic spectrum characterized by tissue-specific diseases, as Familial Partial Lipodystrophy (FPLD), as well as systemic diseases or overlapping forms. Among them, we are particularly interested in premature aging syndromes linked to LMNA mutations such as Hutchinson-Gilford Progeria Syndrome (HGPS), identified by our team and F. Collins' laboratory (USA) in 2003 and related diseases linked to LMNA, ZMPSTE24 or BANF1 mutations. The team, led by Nicolas Lévy, is divided in three subgroups. The first group (A) is focused on pathophysiological mechanisms involved in premature aging syndromes linked to LMNA or related genes'mutations, in order 1/ to better understand the mechanisms underlying premature and normal aging and 2/ to develop new therapeutic approaches for these disorders. The second group (B) explores the involvement of lamin defects into more frequent or acquired diseases. The last group (C) is interested in addressing anomalies of the nuclear envelope during spermatogenesis' disorders, an emerging field, little explored so far.
As far as our clinical and molecular genetic diagnosis activities are concerned, please kindly use the Orphanet link: http://www.orpha.net/consor/www/cgi-bin/index.php?lng=EN
Publications
Perrin S, Cremer J, Faucher O, et al. Correction: HIV Protease Inhibitors Do Not Cause the Accumulation of Prelamin A in PBMCs from Patients Receiving First Line Therapy: The ANRS EP45 "Aging" Study. PLoS One 2013;8.

Ozcan D, Derbent M, Seckin D, et al. A collodion baby with facial dysmorphism, limb anomalies, pachygyria and genital hypoplasia: a mild form of Neu-laxova syndrome or a new entity? Ann Dermatol 2013;25:483-8.

Navarro CL, Esteves-Vieira V, Courrier S, et al. New ZMPSTE24 (FACE1) mutations in patients affected with restrictive dermopathy or related progeroid syndromes and mutation update. Eur J Hum Genet 2013.

Perrin S, Cremer J, Roll P, et al. HIV-1 infection and first line ART induced differential responses in mitochondria from blood lymphocytes and monocytes: the ANRS EP45 "Aging" study. PLoS One 2012;7:e41129.

Perrin S, Cremer J, Faucher O, et al. HIV protease inhibitors do not cause the accumulation of prelamin A in PBMCs from patients receiving first line therapy: the ANRS EP45 "aging" study. PLoS One 2012;7:e53035.

Nissan X, Blondel S, Navarro C, et al. Unique preservation of neural cells in Hutchinson- Gilford progeria syndrome is due to the expression of the neural-specific miR-9 microRNA. Cell Rep 2012;2:1-9.

Kichine E, Roze V, Di Cristofaro J, et al. HSFY genes and the P4 palindrome in the AZFb interval of the human Y chromosome are not required for spermatocyte maturation. Hum Reprod 2012;27:615-24.

Fabre A, Charroux B, Martinez-Vinson C, et al. SKIV2L mutations cause syndromic diarrhea, or trichohepatoenteric syndrome. Am J Hum Genet 2012;90:689-92.

Doubaj Y, De Sandre-Giovannoli A, Vera EV, et al. An inherited LMNA gene mutation in atypical Progeria syndrome. Am J Med Genet A 2012;158A:2881-7.

Yesil G, Hatipoglu L, Esteves-Vieira V, Levy N, De Sandre-Giovannoli A, Tuysuz B. Restrictive dermopathy in a Turkish newborn. Pediatr Dermatol 2011;28:408-11.

Osorio FG, Navarro CL, Cadinanos J, et al. Splicing-directed therapy in a new mouse model of human accelerated aging. Sci Transl Med 2011;3:106ra7.

Merono F, Agouti I, Bonello-Palot N, Paolasso C, Levy N, Badens C. Analytical evaluation of the Tosoh HLC-723 G8 automated HPLC analyzer for hemoglobin analysis in beta-thalassemia mode. Clin Biochem 2011;44:441-3.

Lopez-Mejia IC, Vautrot V, De Toledo M, et al. A conserved splicing mechanism of the LMNA gene controls premature aging. Hum Mol Genet 2011;20:4540-55.

Faguer S, De Sandre-Giovannoli A, Hemery M, et al. A 10 Mb duplication in chromosome band 5q31.3-5q33.1 associated with late-onset lipodystrophy, ichthyosis, epilepsy and glomerulonephritis. Eur J Med Genet 2011;54:310-3.

Fabre A, Martinez-Vinson C, Roquelaure B, et al. Novel mutations in TTC37 associated with tricho-hepato-enteric syndrome. Hum Mutat 2011;32:277-81.

Dutour A, Roll P, Gaborit B, et al. High prevalence of laminopathies among patients with metabolic syndrome. Hum Mol Genet 2011;20:3779-86.

Ben Yaou R, Navarro C, Quijano-Roy S, et al. Type B mandibuloacral dysplasia with congenital myopathy due to homozygous ZMPSTE24 missense mutation. Eur J Hum Genet 2011;19:647-54.

Thuret I, Sarles J, Merono F, et al. Neonatal screening for sickle cell disease in France: evaluation of the selective process. J Clin Pathol 2010;63:548-51.

Smigiel R, Jakubiak A, Esteves-Vieira V, et al. Novel frameshifting mutations of the ZMPSTE24 gene in two siblings affected with restrictive dermopathy and review of the mutations described in the literature. Am J Med Genet A 2010;152A:447-52.

Krahn M, Wein N, Bartoli M, et al. A naturally occurring human minidysferlin protein repairs sarcolemmal lesions in a mouse model of dysferlinopathy. Sci Transl Med 2010;2:50ra69.

Gaudy-Marqueste C, Roll P, Esteves-Vieira V, et al. LBR mutation and nuclear envelope defects in a patient affected with Reynolds syndrome. J Med Genet 2010;47:361-70.

Fontaine-Bisson B, Alessi MC, Saut N, et al. Polymorphisms of the lamina maturation pathway and their association with the metabolic syndrome: the DESIR prospective study. J Mol Med (Berl) 2010;88:193-201.

Renard D, Fourcade G, Milhaud D, et al. Novel LMNA mutation in atypical Werner syndrome presenting with ischemic disease. Stroke 2009;40:e11-4.

Gaudy-Marqueste C, Boyer A, Navarro C, et al. LMNA, ZMPSTE24, and LBR are not mutated in scleroderma. Genet Test Mol Biomarkers 2009;13:635-9.

Fabre A, Roquelaure B, Lacoste C, et al. Exclusion of EGFR, HRAS, DSP, JUP, CTNNB1, PLEC1, and EPPK1 as functional candidate genes in 7 families with syndromic diarrhoea. J Pediatr Gastroenterol Nutr 2009;48:501-3.

Bonello-Palot N, Gonnet K, Ducros C, et al. Late diagnosis of an unstable hemoglobin in a diabetic patient: Hb Baille alpha2 122(H5)His>Tyr. Clin Chim Acta 2009;406:174-5.